Intended Result
If done by PLASTIC SURGEON in well equipped Operation Theatre hair transplant gives excellent results . The transplanted hair grows like natural hair and does not require special care. They grow even if you shave them
what causes hair loss in men?
Androgenic alopecia accounts for over 90% cases of male pattern baldness. It is dependent solely on two factors – our genes ( hereditory )and the male hormone 'testosterone' ( DHT )
Grades of hair loss in male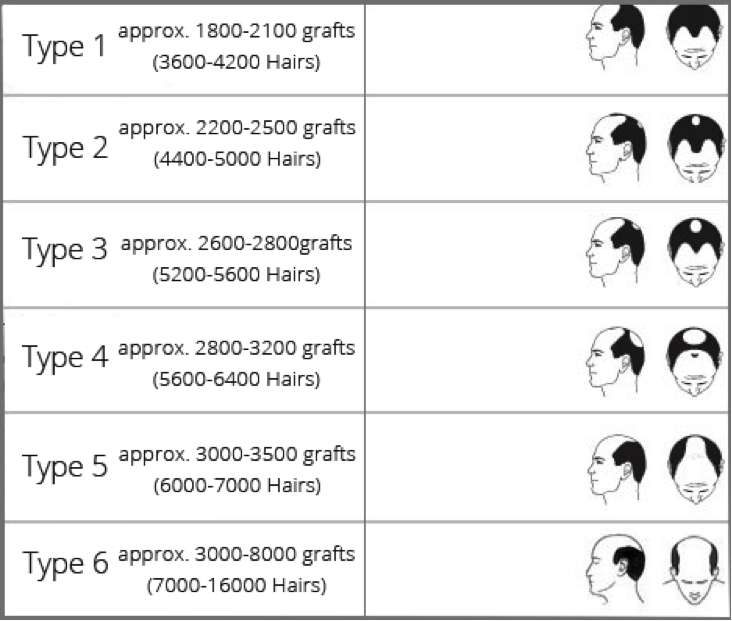 Graft requirement:
Number of graft required depends upon grade of baldness , donor area ( availability of hairs ) , quality of hairs & patients expectations

FOLLICULAR UNIT EXTRACTION (FUE)
(FUE) method of hair transplant takes individual hair follicles ( grafts ) from back of head (donor area) or beard , chest , pubic area ,other body parts and transplants them into the area of thinning/ baldness. Follicles are implanted at a very specific angle & pattern which gives natural hair transplant results. The whole process takes place under local anaesthetia.
This option - (FUE) is preferred by those who are concerned about visible scarring that can be encountered with other methods & by those clients who intend to have very short hairstyles.
At ADORN it's done by plastic surgeon which makes FUE nearly scarless and painless hair transplant procedure . ADORN gives best result of fue in ahmedabad gujarat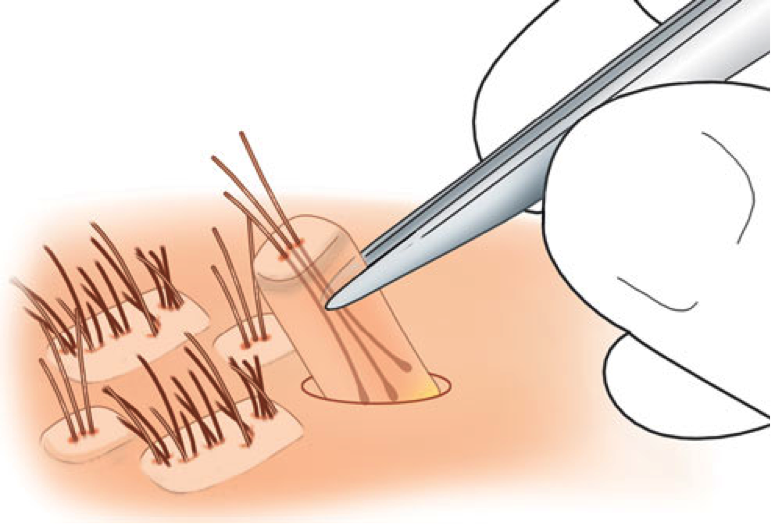 Duration:
Time taken for the procedure will vary widely depending on the area to be treated and number of grafts required .
FOLLICULAR UNIT TRANSPLANT (FUT)-STRIP SURGERY
This technique of surgical hair transplant (FUT) involves removing strip of hair bearing skin from donor areas at the back or sides of the head. The surgeon then removes the individual hair units (comprising of 1-3 hairs) from the strip and these grafts are then implantec individually into the area of thinning or baldness.
When performed by Qualified Plastic Surgeons scar is very thin & with the latest TRYCHOPHYTIC CLOSURE TECHNIQUE offered by plastic surgeons hairs grow through the scar which makes it inconspicuous.
This technique is prefered when graft requirement is high (3000-4000) & patients with curly hairs
Duration:
The procedure takes place under local anaesthetia. From start to finish, it normally lasts between 6-9 hours depending on the area to be treated.

Both FUT and FUE have good long term results . But when graft requirement is more FUT is a better option . But when grafts requirement is less FUE is better as it gives better scarring , less painful , early results when done by an expert hair transplant surgeon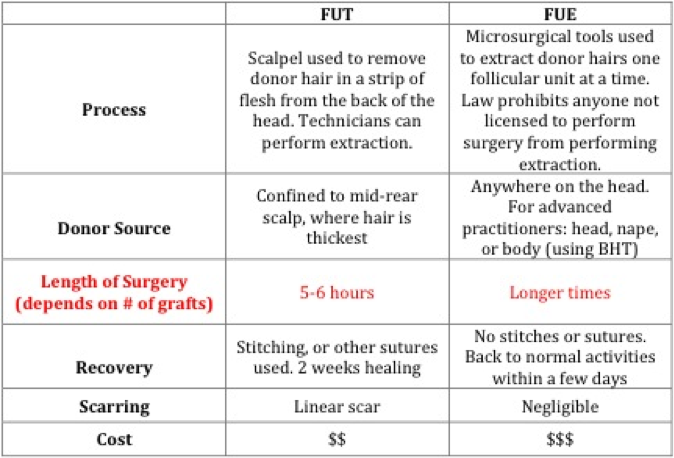 PRP injections ( platelet reach plasma ) stops further hair loss , makes hairs thicker and makes hair grow faster
when PRP used after hair transplant , it yelds better final results
* Terms & conditions apply.